Since it is becoming spring why not a green?? I decided to do a lovely green today from
Sally Hansen
called
Ivy League
.
I realy like this bradn it only took
2
coats to get it opaque. And its realy cheap so its not going to break your wallet.
The appplication was realy easy no problems at all. all over i give this 5 stars lol. not to mention this is a fun color.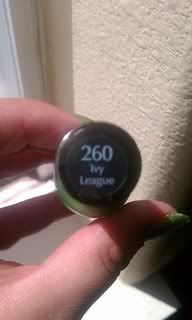 not to mention it matches my ring!! Go august birthdays :)
Stay Goregous :)
- Hilary